Hearing loss is a common condition that can impact people of all ages. While hearing aids are an effective solution to improve hearing, the cost of a hearing aid system can be a significant barrier for many people.
In this blog post, we will discuss how much hearing aid cost and how difficult it can be for some to afford them.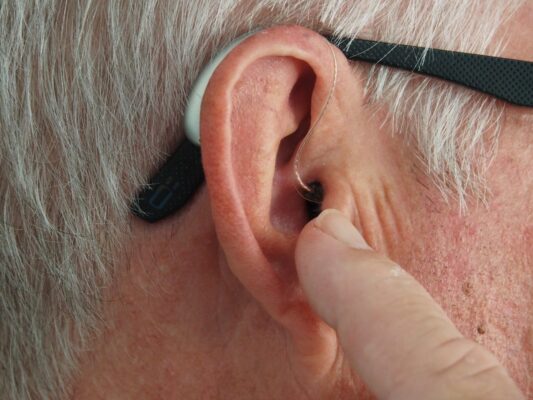 How much hearing aid cost?
Let's talk about how much hearing aid cost.
According to the American Speech-Language-Hearing Association (ASHA), the average cost of a single hearing aid ranges from $1,000 to $4,000, with some high-end models costing up to $10,000.
A pair of hearing aids can cost anywhere from $2,000 to $8,000 or more.
These figures make it clear that hearing aids can be a significant expense for those who need them.
In addition to how much hearing aid cost alone, there are also additional expenses to consider, such as fittings, adjustments, and ongoing maintenance.
And these costs can add up over time, making it difficult for some people to afford the ongoing expenses of hearing aids.
It's worth noting that Medicare and most private insurance plans do not cover the cost of hearing aids.
This leaves individuals to pay out-of-pocket when it comes to how much hearing aid cost, which can be a significant challenge for those with low incomes, limited financial resources, or who are living on a fixed income.
For many people, how much hearing aid cost can be prohibitive.
This is where non-profit organizations such as the Hearing Loss Association of America and the Starkey Hearing Foundation come into play.
They provide assistance for people with hearing loss who are struggling to afford hearing aids. Additionally, some states offer financial assistance or loan programs for hearing aids, and some hearing aid manufacturers offer financing options.
Despite these programs, many people still struggle to afford hearing aids, and this can have a significant impact on their quality of life.
Untreated hearing loss has been linked to cognitive decline, depression, and other health issues. Hearing loss can affect communication, social interaction, and overall wellbeing.
It's essential that everyone has access to the necessary hearing aid devices regardless of their financial situation.
So, how much a hearing aid cost can be a significant barrier for many people. It's crucial that more resources become available to make hearing aids more accessible to those who need them.
We need to work together as a society to find ways to make hearing aids more affordable so that everyone has the opportunity to hear and communicate to their fullest potential.
In the meantime, however, there are several options for hearing aids for specific situations, like for example watching TV.
And this is where TV Ears can be a great solution for those looking for low-cost hearing aid options for watching TV.
TV Ears is a wireless TV listening device that allows users to hear TV audio clearly without disturbing others.
And while how much hearing aid cost is a major concern for an every day device, this audiologist designed system is an affordable choice for hearing TV without disturbing others. And while several systems have tried to emulate the success of the TV Ears system, like MDHearingaid.com, TV Ears has been a top choice for those looking for a TV hearing aid for decades.
The device consists of a headset that is connected to a base station that plugs into the audio output of the TV. The user can then adjust the volume and tone of the audio to their liking.
One of the most significant benefits of TV Ears is its affordability.
While hearing aids can be expensive, TV Ears is a low-cost alternative that provides an excellent solution for people who only need help hearing TV audio.
It is also easy to set up and use, making it an accessible solution for people of all ages and technical abilities.
TV Ears also offers other benefits.
The headset is wireless, which means that users can move around freely without having to worry about wires or cables. The device is also compatible with most TVs and audio devices, which makes it a versatile solution for hearing TV audio.
And TV Ears has some unique features that make it a standout solution.
For example, the headset has voice clarifying technology that enhances dialogue and makes it easier to understand. It also has a background noise reduction feature that helps to reduce distracting ambient sounds.
So when looking for hearing solutions, TV Ears is an excellent low-cost option for people who need help hearing TV audio and avoid how much hearing aid cost.
While it may not be a replacement for traditional hearing aids, it can be a great alternative for those who only need assistance hearing TV audio.
With its affordability, ease of use, and unique features, TV Ears is a great option for anyone looking to improve their TV-watching experience.