Cut the Cord and Elevate Your TV Game!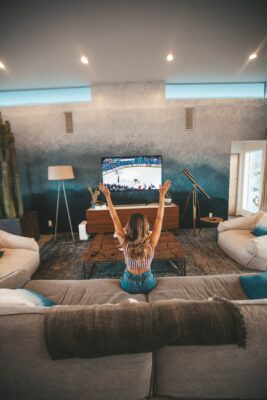 If you're tired of disturbing others while watching TV or constantly adjusting the volume, it's time to step into the future of entertainment. Welcome to the world of wireless headphones for TV, where immersive sound and comfort collide. Get ready to turn your TV time into an unforgettable experience!
The Rise of Wireless Headphones for TV
Remember the days of TV-watching battles? You wanted to enjoy your favorite shows at the perfect volume, but your partner had other ideas. Enter wireless headphones for TV, the heroes of peaceful coexistence. These gadgets have transformed the way we watch television, making it a more personal and enjoyable experience for everyone in the room.
The rise of wireless technology has allowed us to break free from the constraints of traditional wired headphones. Now you can enjoy your late-night movie marathons without waking up the whole house or savor every dialogue without straining your ears. It's a game-changer that brings harmony to your living room.
Types of Wireless Headphones for TV
Before we dive into the wonders of wireless headphones for TV, let's explore the different types available:
1. Over-Ear TV Headphones: The Cinema-Grade Experience
Imagine stepping into a cinematic world without leaving your couch. Over-ear TV headphones offer unparalleled sound quality and comfort. They envelop your ears, providing excellent noise isolation and delivering every sound nuance with precision. It's like having a private theater at your disposal.
2. On-Ear TV Headphones: Compact and Stylish
For those who prefer a more compact option, on-ear TV headphones are the way to go. They sit comfortably on your ears, offering high-quality sound while allowing you to stay aware of your surroundings. These headphones strike the perfect balance between style and function.
3. In-Ear TV Headphones: Discreet and Versatile
In-ear TV headphones, also known as earbuds, are the go-to choice for versatility and portability. They fit snugly in your ears, making them ideal for late-night TV sessions, workouts, or when you just want to enjoy TV without disturbing others.
TV Ears: The Ultimate Wireless Headphones for TV
Now that you're familiar with the types of wireless headphones for TV, let's explore why TV Ears stands out as the ultimate choice for enhancing your TV-watching experience.
Crystal-Clear Sound: Every Whisper, Every Word
Tired of asking, "What did they say?" TV Ears' wireless headphones for TV come equipped with voice clarifying technology. This innovation ensures that even the softest whispers are crystal clear, so you never miss a word of your favorite shows.
Comfort for Extended Viewing: Binge-Watch Bliss
We've all been there: a binge-watching session that lasts longer than expected. With TV Ears, you can comfortably enjoy your shows for hours on end. Our headphones are designed for extended wear, so you can immerse yourself in your TV universe without discomfort.
Wireless Freedom: Move Where You Want
TV Ears' wireless headphones let you break free from your TV. You can move around your room, grab snacks from the kitchen, or even take a bathroom break without missing a moment of your show. Say goodbye to being tethered to your couch!
Easy Setup: No Tech Wizardry Required
Don't fret about complicated installations. TV Ears' wireless headphones are a breeze to set up. Simply connect them to your TV, and you're ready to dive into a world of wireless audio bliss. No technical expertise needed!
The Magic of Wireless Headphones for TV
Now, let's explore the enchanting benefits of using wireless headphones for TV:
1. Personalized Experience
Wireless headphones for TV provide a personalized audio experience. You can crank up the volume without disturbing others, ensuring everyone in the room has a peaceful evening.
2. Enhanced Immersion
With wireless headphones, you're fully immersed in the audio. Every explosion, every whispered secret, and every note of the soundtrack comes to life, making your TV shows and movies more captivating than ever.
3. Peace and Quiet
Late-night viewing is no longer a problem with wireless headphones. You can enjoy your favorite content without waking up your family or neighbors, maintaining peace in your home.
4. Improved Focus
If you're someone who enjoys studying or working while watching TV, wireless headphones are a game-changer. They allow you to concentrate without distractions while staying connected to your entertainment.
The Future of TV Entertainment
Wireless headphones for TV are just the beginning. As technology continues to advance, we can expect even more exciting developments. Enhanced noise-canceling features, augmented reality integration, and extended battery life are just a few possibilities on the horizon.
But one thing is certain: the future of TV entertainment will be wireless, allowing you to enjoy your shows and movies like never before.
Elevate Your TV Experience with TV Ears
Ready to transform your TV-watching routine into an extraordinary experience? TV Ears offers a range of wireless headphones designed to meet your unique needs. Say goodbye to tangled cords and hello to wireless freedom!
Visit the TV Ears website now and explore our selection of wireless headphones for TV. Elevate your entertainment and embrace the magic of wireless audio with TV Ears!
---
If you are struggling with hearing your favorite program, TV Ears has several top-rated, audiologist-designed systems that can help, find more at tvears.com.

Looking for more? Check out the recent stories on the TV Ears blog: