In recent years technological innovation has been a dominant force in the marketplace, with new gadgets and gizmos promising to make life easier showing up every day, including promising a solution for hearing your TV.
Among them are Bluetooth-connected devices. While the wireless connection created by these low-cost devices is convenient for listening to music or taking a phone call, when it comes to watching TV, they may be more trouble than they are worth, making for a poor tv hearing solution.
With a complicated setup, questionable audio quality, and endless setting adjustments needed, many find the Bluetooth "solution" for TV watching less than desirable.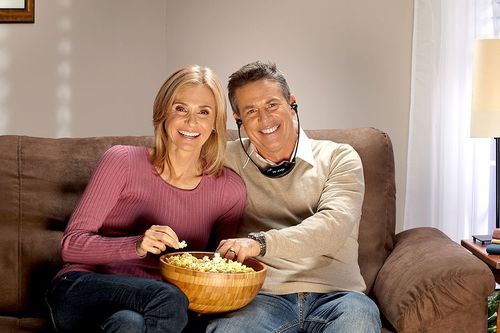 Hearing your TV has never been easier
Luckily for those wanting to hear crystal clear television audio without blasting everyone else in the room, there is a trusted and simple solution to provide easy tv sound enhancement.
TV Ears, an easy-to-use tv hearing solution used by millions, continues to show that while innovation is excellent, usability is paramount, especially for entertainment purposes.
TV Ears is a TV hearing aid that can amplify and clarify TV audio anywhere in the room without the need to turn up the volume to an uncomfortable level or resort to other difficult-to-use systems that promote easy tv sound enhancement.
It is an easy-to-use wireless device with a transmitter that connects to your TV by cable to a lightweight, comfortable receiver that lets the user enjoy their favorite television shows fully or discover new ones.
Every TV Ears system uses wireless technology to send the sound from your television right into your ears without delay. It can be used with any type of television. It works with all kinds of programs – whether they are live or pre-recorded and can help those with hearing difficulties learn to love TV again.
And their proprietary tv hearing solution comes in various styles, so finding the perfect device has never been easier. TV Ears blows Bluetooth options out of the water when it comes to easy tv sound options.
Don't struggle with a good tv sound connection solution, check out the easy tv hearing solution offered by TV Ears.