The TV•Ears® Original has helped millions of people hear television dialog clearly while eliminating complaints about loud volume or the need to buy expensive hearing aids. Put on your TV•Ears® and turn them up as loud as you want while others listen to the television at a comfortable volume.
You can even put the TV on mute and listen through the headset only.   Others in the room won't hear a thing but we guarantee you will. Imagine watching television with your family again without fighting over the TV volume or listening in private while a loved one sleeps or reads. As thousands of our customers have said, "TV•Ears® has changed our lives".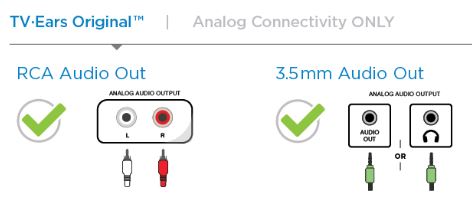 ⓘ Note: This product supports Analog connectivity only.
If you have a digital TV, will be buying one in the future, or you are uncertain which audio out ports your TV offers you may want to upgrade to the TV Ears Digital that offers connectivity for both Digital and Analog TVs.
The TV•Ears® Original transmitter is placed on a flat surface facing the seating area. It simply connects to your TV, cable box, or satellite box equipped with analog audio out ports. The transmitter then sends audio wirelessly to the headset worn by the user. Volume and tone adjustments are available on the headset for creating perfect dialog clarity.
TV•Ears® works separately from the TV volume so the TV can be turned down or muted, and is compatible with any television.
Click here to watch the TV•Ears® Headset adjustment video to learn how to adjust the headset.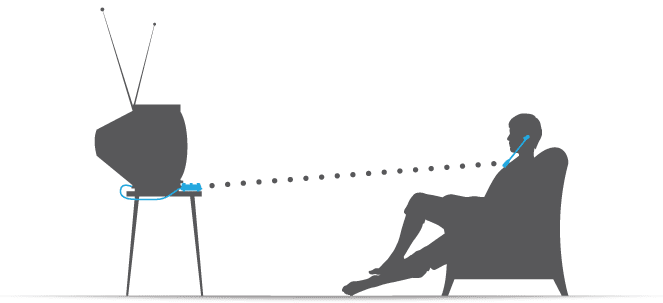 Product Features
Voice Clarifying Circuitry®
Television and headset volume function separately
Twice the Power- 120 db
Background noise reducing foam ear tips
Ultra lightweight wireless headset
Doctor Recommended
Excellent Customer Service
5 Year Limited Warranty
Technical Data
| | |
| --- | --- |
| Transmission Type | Infrared, Mono |
| Audio Frequency Response | 20 – 20,000 Hz |
| Transmission Frequency | 2.3 MHz |
| Max SPL | 120 dB |
| Headset Dimensions (H x W x D) | 8″ x 5.4375″ x 0.6875″ |
| Transmitter Dimensions | 1.4″ x 4.12″ x 3.625″ |
1 TV Headset with pre-installed rechargeable battery (Version 5.0)
1 Transmitter with two charging cradles
1 Audio Cord 3.5 to 3.5
1 Audio Cord 3.5 to RCA
1 Power Cord
1 Owner's Manual
Additional Headsets can be purchased separately
Join Over 2 Million Customers who Enjoy the TV•Ears® Experience™
Voice Clarifying Circuitry®
Our Voice Clarifying Circuitry® is powered by an advanced microchip that instantaneously amplifies and clarifies television dialog while dampening background sounds so that voices are heard clearly. The words seem to jump out of the audio track, making even whispers and accents understandable. This technology also automatically lowers audio "bursts" during commercials to prevent jarring spikes in volume.
Twice the Power - 120 Decibels
TV•Ears® are classified as "Assistive Listening Devices" for hearing-impaired individuals. This special designation permits TV•Ears® to have twice the maximum volume compared to all other wireless headsets.
Speed Of Light Infrared Technology™ (SoLIT)
TV•Ears® transmitters use Speed of Light Infrared Technology to send the television's audio to the headset and unlike slower Bluetooth or (RF) Radio Frequency, SoLIT doesn't need to be paired or adjusted, is completely safe with pacemakers and will not interfere with your telephone.
Why more people trust #1 selling TV•Ears®
Doctor Recommended Since 1998
Powerful Voice Clarifying Audio™
Over 2 Million Satisfied Customers
FREE 5 Year Limited Warranty
FREE Unlimited US Technical Support
TV•Ears® FREE 5 Year Limited Warranty
This FREE 5 year limited warranty covers product failures for a period of 5 years after the original purchase. The warranty is only valid if the product is purchased from TV•Ears® directly or from one of the TV•Ears® authorized resellers.
During the 5 year warranty, If the product fails within the first year of the original purchase date, it will be replaced once at the cost of shipping and handling with the same or newer model.
For more information about the TV•Ears® Limited Warranty and/or to register your product click here.
Need Assistance?
Call us Mon-Fri 6 AM – 6 PM PST

Toll-Free: 1-888-883-3277