Product Features
Set to voice clarifying or surround sound.
Sound bar and headset can be used together at different volumes.
Comes with easy to use remote control
and instructions. Sets up in minutes with one audio cord to back of TV.
Powerful compact 17 inch size will fit under or around TV.
Voice Clarifying Circuitry®
In addition to traditional surround sound the TV Ears Sound Bar has a voice clarifying setting, which clarifies those hard to hear audio tracks.
Build out your TV audio system
Easily connect up to 4 TV·Ears wireless speakers, headsets to this sound bar to create the TV sound system you want. No WiFi, pairing, application installation or comp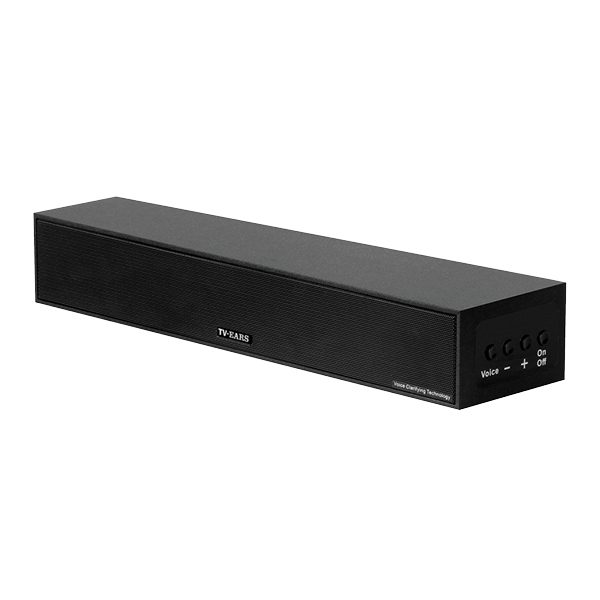 Join Over 2 Million Customers who Enjoy the TV•Ears® Experience™
Voice Clarifying Circuity®
Our Voice Clarifying Circuitry® is powered by an advanced microchip that instantaneously amplifies and clarifies television dialog while dampening background sounds so that voices are heard clearly. The words seem to jump out of the audio track, making even whispers and accents understandable. This technology also automatically lowers audio "bursts" during commercials to prevent jarring spikes in volume.
Doctor Recommended Since 1998
Over 2 Million Satisfied Customers
TV•Ears® 5 Year Limited Warranty
This 5 year limited warranty covers product failures for a period of 5 years after the original purchase. The warranty is only valid if the product is purchased from TV•Ears® directly or from one of the TV•Ears® authorized resellers.
During the 5 year warranty, If the product fails within the first year of the original purchase date, it will be replaced once at the cost of shipping and handling with the same or newer model.
For more information about the TV•Ears® Limited Warranty and/or to register your product click here.
Need Assistance?
Call us Mon-Fri 6 AM – 6 PM PST

Toll-Free: 1-888-883-3277